Illuminate Senior Services is thrilled to introduce a powerful Network Resource Tool for Older Adults, Caregivers and Professionals. Our dedication to enhancing the lives of older adults has motivated us to develop a comprehensive network of Senior Resources, all in one place. We CONNECT Seniors to Professional Resources to ensure they FIND the services they need and deserve. 'Illuminate Partners' is powered by our passion for connecting seniors and their families to valuable senior resources in their local area. Our mission is to SIMPLIFY the process by connecting seniors and caregivers to professionals who provide valuable SENIOR SERVICES.
This invaluable tool is designed to empower older adults with real-time information, expert insights, and a curated selection of senior resource options. By introducing Illuminate Partners, we aim to enhance our collaboration with senior professionals and services in a shared mission to elevate the quality of care for seniors collectively. We invite you to explore this tool and look forward to the possibility of aligning our strengths and resources to create a brighter future for seniors. Let's work together to provide the highest level of care and support to this deserving community.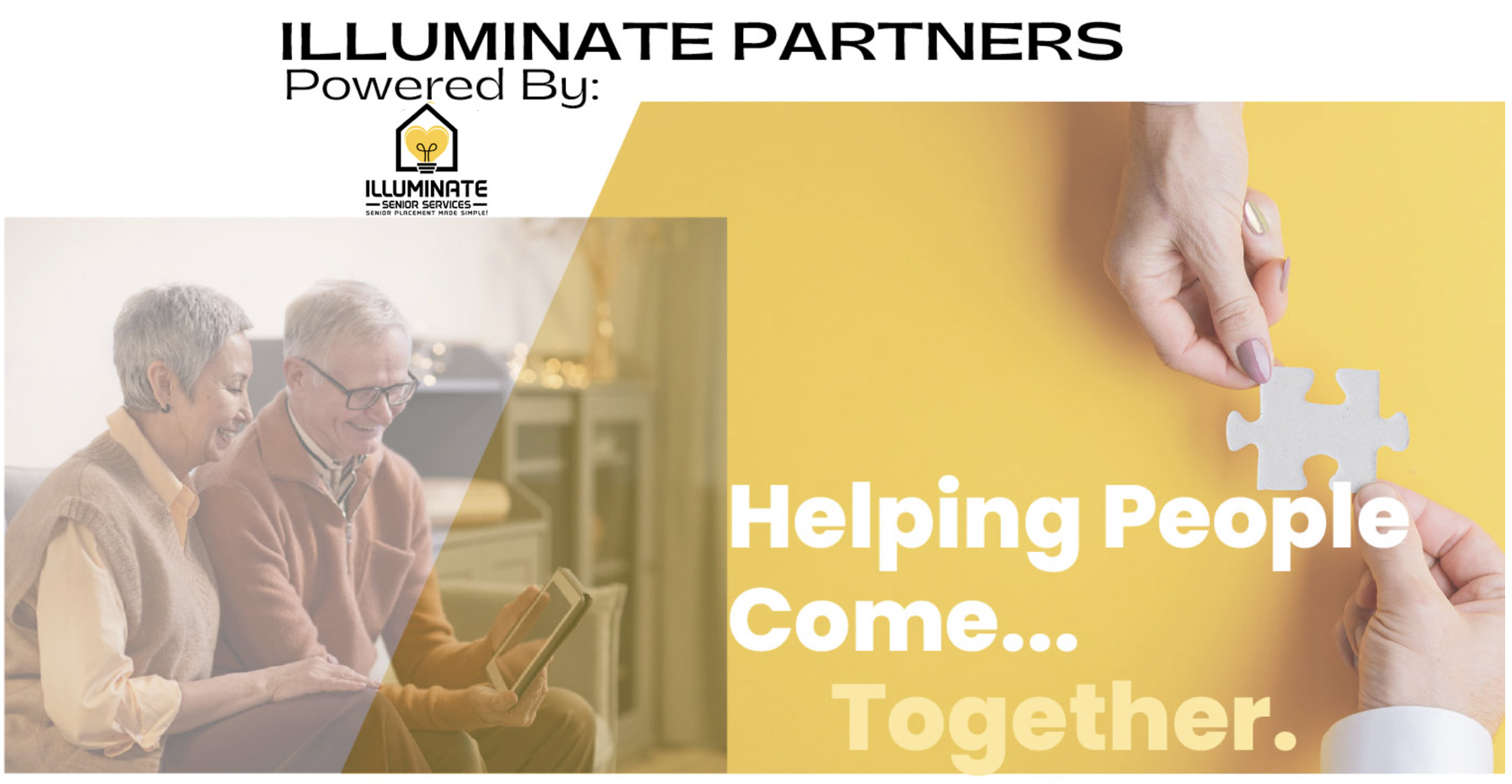 If you are an older adult seeking services or a professional helping a family, you are welcome to search our
database for up-to-date current information. This is a way for families to find you as well as you to find
resources for them. It's a partnership that will be sure to grow as we help our seniors find resources
that our professional partners provide. It's a true WIN WIN! We are so excited to launch this Resource
Database to help our seniors navigate a process that can often times feel overwhelming.
Who Can Partner with Us?
Any company that takes great pride in the services they provide to seniors and is in good standing. We
do like reviews and share them in your profile.
Will your company profile be public?

1) Start the profile by providing basic company information (Company Name, phone, address,
contact info.) Wait for the refresh/redirect on the website to complete the next step.

2) Provide details about your services offered, territories covered, minimum hours if you are a home
care company, cost, payors, or anything you feel is pertinent to your company (you may add
brochures, social media links, virtual tours, support group lists, etc.).

3) You will receive an email from us asking you to review the information you provided and then
APPROVE the information before making it public for others to find.
Yes, any senior living company that is NOT a community or a Senior Placement Company will be public
for seniors and their families to find you. You will have an active audience comparing your company profile to
other profiles in your area, looking for the best fit. Profiles are not public until you/the company
complete and approve the profile, which consists of 3 parts.

The last thing to know about, for us to keep the information accurate, up to date, and with
information we can count on, we will send out an automated email every 6 months to the primary
contact to ask you to update your profile. If nothing has changed and you have nothing to add, you may
type your name and click Submit to ensure your profile is active for the next 6 months.
Why are Senior Living Communities Not Public in the Resource Database?
Illuminate Senior Services is a senior placement company that provides a white glove service to
seniors and their families searching for a senior living community (55+, Independent Living, Assisted
Living and Memory Care). We offer a service at NO COST to families to ensure we are helping them
narrow down communities in their area that fit their needs (Care needs, budget, location,
amenities, etc.). We are ONLY compensated when we REFER a client to a community and they
choose to move into one of the communities we recommended. We have contracts with
communities and therefore cannot share their profile publicly. We keep profiles on all
communities to ensure we pre-qualify accordingly, saving families time and frustration. We are your
personal advocate every step of the way(Profiles are used for clients only, so call us if you are
looking for a senior living community in the future). We can GUIDE YOU!
Why are Senior Placement Companies Not Public in the Resource Database?
Since we work closely with other senior placement companies/advisors, we handle these families
with great care. Our profiles of senior living advisors allow us to connect the family with a senior
living advisor in your local area/state. Our profiles are thorough and up-to-date, so we can effectively
connect you personally to a trusted senior advisor.
Illuminate Senior Services is a boutique white glove placement company, located in Columbus, Ohio. We service Central Ohio personally, but connect older adults to senior resources nationally, so seniors can work with local resources and receive the support they deserve.
Sincerely,
Missy Krugh, Owner
Illuminate Senior Services